These past several weeks have been unlike anything we have ever experienced in our country before. Our already caring community has come together in amazing ways and is handling this challenge with tremendous courage and optimism. Your kindness and generosity are, as always, very much appreciated.
Because we're all concerned about our loved ones, friends and neighbours – especially those who are at greatest risk – I'm sharing this update on the current status of CMP, our resident seniors, and staff.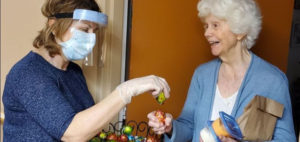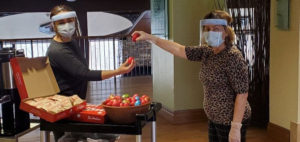 GoFundMe Campaign 
On March 13, 2020, Blair & Katrina Bitove, the grandchildren of CMP founders John & Dotsa Bitove, launched a GoFundMe campaign to raise funds for the purchase of supplies to keep our CMP residents and staff safe during the pandemic. The goal was to raise $1,000 and, to date, $9,846 has been raised. Well done Blair and Katrina!
Blair Bitove writes as follows:
"Thank you all for your generous contributions. We far exceeded what we anticipated and couldn't have done it without you. We bought supplies and food and delivered them to CMP. The balance of the money was donated to CMP to continue to purchase needed supplies during this pandemic. Please feel free to keep the donations coming, as all contributions going forward will be donated to the CMP."
Donations Received
Thanks to the wonderful support of our community, CMP has received many donations for our residents and staff in recent weeks. A huge thank you goes out to everyone for your thoughtfulness and generosity, including:
Vonna Bitove

for donating face masks

Susan Niczowski & Summer Fresh

for donating food and snacks

Stephanie Temovsky, Sonya & Dina Arrigo

for taking the time and effort to make hand sanitizer sprays

Marilyn Trentos

for her donation of assorted fresh fruits

George & Pennie Markou

for donating disinfectant wipes and lovely Easter treats

The Brown Family

for donating coffee and donuts

Dr. Stefanovich, Dr. Cumandra, Marilyn Trentos & Glen Day of Heritage Funeral Chapels

for donating Personal Protective Equipment (PPE) and sanitizing wipes

Dr. Denkovski & Dr. Markou

for securing much needed PPE and sanitizing wipes at the beginning of the lockdown

St. Clement of Ohrid, Macedonian Orthodox Cathedral

– A special thank you to Father Sasho and all the wonderful ladies that prepared delicious, homemade Easter treats

Rooster Coffee Shops

for donating gallons of milk and cream

Frank Mackovski of Mack Media Inc.

for donating much needed face shields

Tom & Jordan Bitove of Montecito Restaurant

for donating a Mother's Day dinner for all of the Babas at the Home

CMP Staff
Although all social gatherings and activities have been suspended due to COVID-19, the staff at CMP remains engaged and in contact with our seniors. While in full PPE gear and practicing social distancing, Zlatka and her staff continue to connect with and support CMP residents with weekly door-to-door visits to check on the wellbeing of residents and to distribute all of your wonderful donations.
CMP Volunteers
A very special thank you goes to John Zolis, Filip Zolis, Coraleigh Tomlyn and Deborah Lauzon. We greatly appreciate your help, dedication and hard work.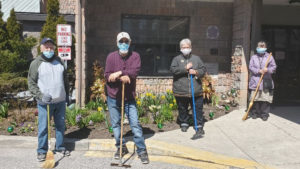 Final Word 
On behalf of the CMP Board, our residents, and especially our frontline professionals Zlatka, Margarita and Snezana, a big, heartfelt "Thank you!" for your kindness, generosity and support. During these unprecedented and challenging times your thoughtful donations will help facilitate the protection and wellbeing of our most precious and most valuable assets… our people!
Again, I thank you for the donations and I look forward to the day in the not too distant future when we can meet and I can thank you in person.
Everyone be well and stay safe,
George Markou, President
Canadian Macedonian Place Foundation